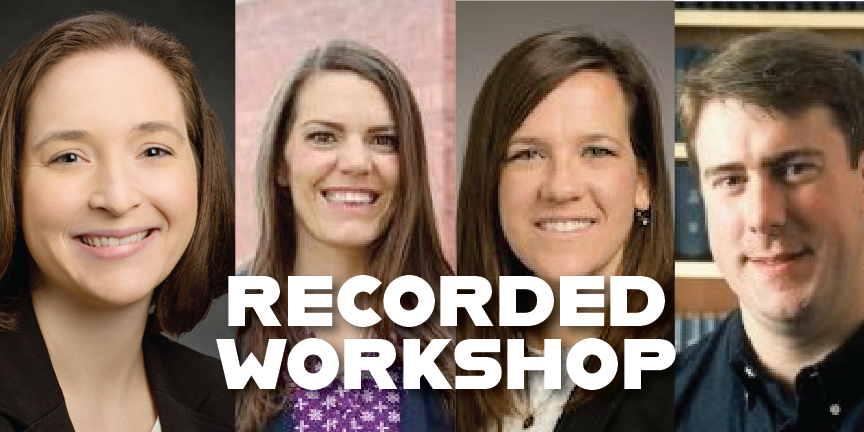 Promoting Student Wellness in the Online Classroom (A Discussion)
In response to COVID-19, universities abruptly moved to remote learning. This change, coupled with an ongoing worldwide pandemic, presented students and faculty with numerous challenges, including heightened stress and anxiety. This recording was a roundtable discussion to share best practices, concerns, success stories, and to brainstorm how the engineering education community can promote student wellness in the online classroom. The group discussed questions and shared experiences on the following questions: How do I connect with students virtually? How can I make sure my students are doing OK? How can I reduce stress for online exams? How can I best model wellness practices to students? What support do faculty need from universities? This discussion supports efforts moving forward to support student wellness in online or blended classrooms to support student mental health. Best practices distilled from this workshop can be applied in emergency remote learning as well as serve as a model for continuing online programs.
This Virtual Workshop was recorded on July 15, 2020.
Facilitators
Dr. Karin Jensen

Karin Jensen, Ph.D. is a Teaching Assistant Professor in bioengineering at the University of Illinois at Urbana-Champaign. Her research interests include student mental health and wellness, engineering student career pathways, and engagement of engineering faculty in engineering education research. She was awarded a CAREER award from the National Science Foundation for her research on undergraduate mental health in engineering programs. Before joining UIUC she completed a post-doctoral fellowship at Sanofi Oncology in Cambridge, MA. She earned a bachelor's degree in biological engineering from Cornell University and a Ph.D. in biomedical engineering from the University of Virginia.

Dr. Holly Golecki

Holly Golecki is a Teaching Assistant Professor in Bioengineering at the University of Illinois Urbana-Champaign. Holly's research interests include biomaterials and soft robotics. She also studies how research programs can be used to support first generation and female engineering students. Prior to the move to Illinois, Holly spent five years as a teacher and director of robotics at a K12 school. While there, she started a soft robotics research group for high school students. Holly now studies impacts of such programs with the perspective of the classroom teacher in mind. Holly received her BS in Materials Science and Engineering from Drexel University and her PhD in Engineering Sciences from Harvard University.

Dr. Molly Goldstein

Dr. Molly H. Goldstein is a Teaching Assistant Professor in Industrial and Enterprise Systems Engineering at the University of Illinois. Molly earned her Ph.D. in Engineering Education at Purdue University in 2018. During this time, Molly was awarded the College of Engineering Outstanding Research Award and was a Bilsland Fellow. Molly's research focuses on student designer trade-off decisions through the study of their design actions and thinking. Her studies often involve educational and professional contexts with cross-disciplinary collaborations. She has a B.S. in General Engineering (Systems Engineering & Design) and M.S. in Systems and Entrepreneurial Engineering, both from the University of Illinois, Urbana-Champaign. Prior to pursuing her Ph.D., she worked as an environmental engineer specializing in air quality, influencing her focus in engineering design with environmental concerns.

Dr. Brian Helmke

Brian P. Helmke is Associate Professor of Biomedical Engineering, Director of Undergraduate Research for the School of Engineering and Applied Science, and a Faculty Consultant for the Center for Teaching Excellence at the University of Virginia. Brian is interested in technology-enhanced collaborative learning that helps prepare engineering students for professional practice. He encourages creative problem-solving through integration of previous coursework, online resources, and peer discussions. Brian teaches large format courses in physiology and biotransport as well as smaller courses and laboratories in biomedical engineering, and he mentors undergraduate research teams. Brian's education research interests include motivation, student resistance, and inclusive teaching practices, and his scientific research interests include cardiovascular physiology, cellular mechanobiology, and nanotechnology-based biomaterials. He received the B.S.E. in bioengineering from the University of Pennsylvania, the B.S.Econ. from The Wharton School of the University of Pennsylvania, and the Ph.D. in bioengineering from the University of California, San Diego.