ASEE CDEI Scholar Spotlight Series: Dr. Homero Murzi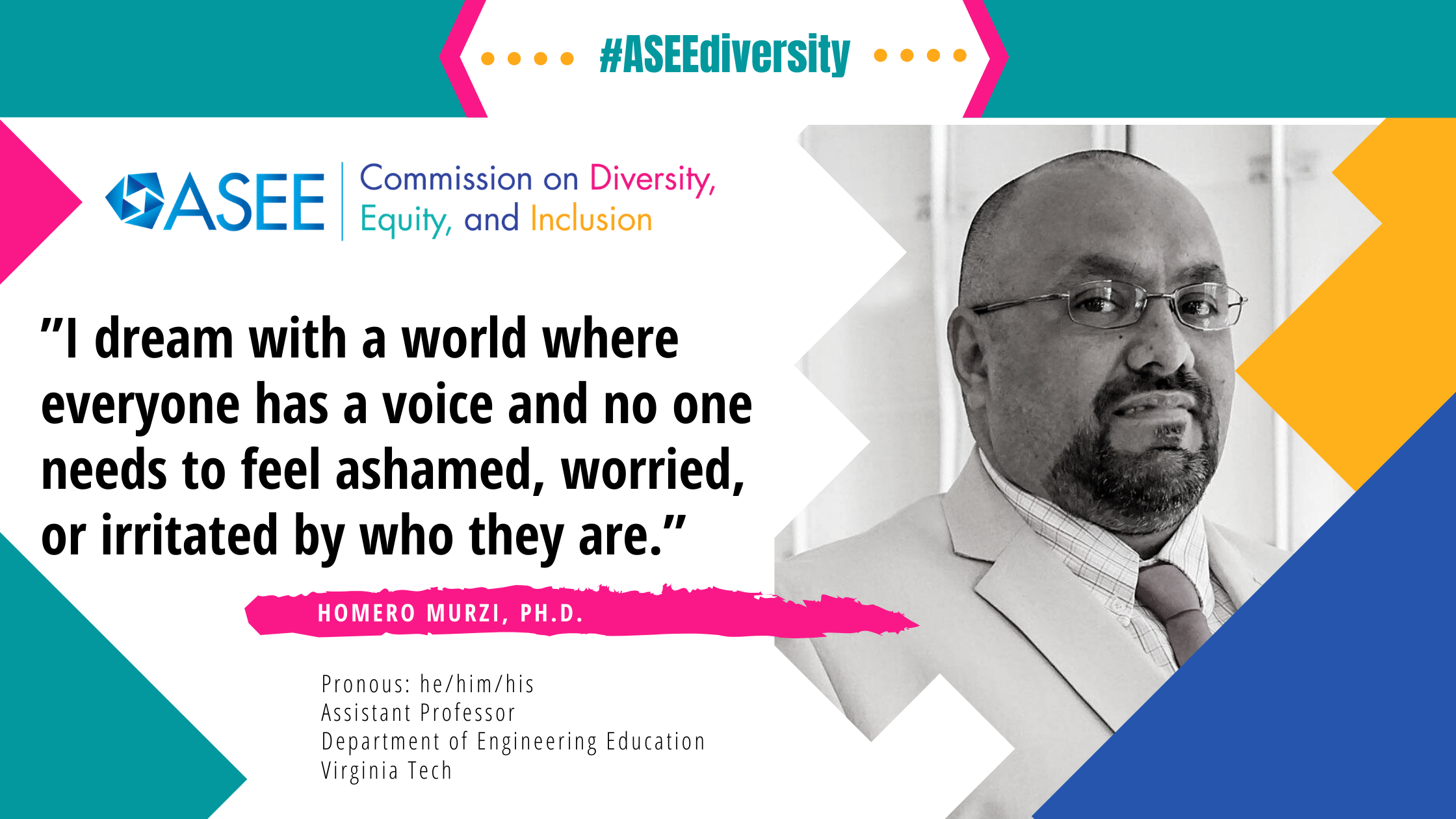 Dr. Homero Murzi: Creating culturally responsive environments by focusing on the voices of our engineering students
We are honored to share the story of Dr. Homero Murzi in our inaugural post for the Diversity, Equity, and Inclusion (DEI) Scholar Spotlight Series. Dr. Murzi has dedicated his career to increasing awareness and action towards creating culturally responsive environments. His research in engineering education is currently focused on exploring how different cultures understand issues of DEI in the U.S. with particular emphasis on the narratives from international students and faculty. Besides his many honors and roles, Homero explains how transformational was his relocation from his native Venezuela to the U.S. and how it defined his passion on his personal and professional endeavors.
In the interview below, you can enjoy learning about Homero's story, current work, insights, and future plans on DEI. At the end of this post, don't miss out on the opportunity to connect with our scholar and learn more about the ASEE CDEI efforts.
ASEE CDEI Communications Committee Volunteers:
Introduction and editor: Sindia M. Rivera-Jiménez, Ph.D., University of Florida
Volunteer Webmaster: Lulu Sun, Embry-Riddle Aeronautical University
Scholar Interview
Q: Can you tell us your story of belongingness?
For a forced immigrant, belonging is a complex and emotional construct. I'm originally from Venezuela, where I spent most of my life. There, I worked in Industry for many years and then became a faculty member. I was an Associate Professor in the Industrial Engineering Department and an Assistant Dean for Teaching and Learning. In 2010, I moved with my family because of the government's persecution due to my adversarial political views.
Starting again in the middle of your life is one of the hardest things I have done. When I think of belongingness, I have to think of my time in Venezuela and my time in the U.S. (and 3 or 4 other countries I have lived in). In Venezuela, I was part of the majority dominant group (i.e., heterosexual catholic man), so understanding the issues of traditionally marginalized populations was not easy or evident. Nevertheless, my work in the Equity and Inclusion space started when trying to create learning environments that were inclusive for all, especially for our most affected students there who were students from challenging socio-economic backgrounds and students that identified as LGBTQ.
Belongingness in the United States had a whole different meaning. Now I was not part of the majority, but rather I had multiple identities, all part of traditionally marginalized groups that were intersecting (e.g., Latino, International, Indigenous). Feeling that I belong was difficult. I experienced micro and macro aggressions. I started to feel I belonged when I joined the engineering education community. Engineering education was something I had been doing for decades, but I didn't realize there was a field for it. It was transformational for me, and it was the right fit or, as I sometimes say, love at first sight.
Q: What is your understanding of DEI and why it is important to what you do?
I think Equity, Diversity, and Inclusion are essential parts of my life and everything I do. I can't separate my multiple identities from my research, teaching, and service. However, I was very uneducated and had multiple biases that I didn't recognize, so I think it was a long road of listening, reading, and educating myself. Like I said before, I was part of the majority group, so learning from the comfort of my privilege was easy, but slow. However, when I moved into the U.S., my family and I started facing the complexities of racial injustice. It was then when I realized I needed to be more active and involved.
I think that I dream of a world where everyone has a voice, and no one needs to feel ashamed, worried or irritated by who they are. When thinking about what DEI means to me, I always go back to the typical example of the difference between inclusion and diversity.  They say that diversity is being invited to a party, and inclusion is being asked to dance. I don't agree with this example because I think I shouldn't need to be invited to the party or dance. I want to run the party, and I want to be a DJ. I want my voice to be a part of the decisions and the organization.  DEI doesn't mean to allow me to be included in the spaces I interact with. It means that the spaces I interact with are mine, and I have power and can make decisions on them.
Q: What do you see as the next steps for your DEI work?
I think my next steps in this space is to start exploring how different cultures understand issues of Equity, Diversity, and Inclusion in the U.S. I do a lot of work with international students and international faculty members. I think there is a disconnection between the current research on equity and inclusion and some of their cultural perspectives, so I'm really excited to explore that space. I'm also interested in studying the intersection of different identities and how they support each other. For example, I'm interested in how Latinx students interact with Native American students and how their funds of knowledge and communities of cultural wealth complement each other to create broader support systems in engineering.
Q: What is one resource that you can recommend to people who want to learn more about DEI in your field? 
One resource that I think is really important and should be implemented widely in engineering education is Culturally Responsive Teaching, and I always suggest the book by Geneva Gay "Culturally responsive teaching: Theory, Research, and Practice." Also, I obviously suggest all the amazing resources that the ASEE CDEI has in place on its website.
Recommended ASEE PEER paper from our scholar:
Matusovich, H. M., & Murzi, H., & Gray, D., & Chambers, B. D., & James, M. B. (2020, June), An Autoethnography: Outcomes from Faculty Engagement in Course Development in a Large First-year Engineering Program Paper presented at 2020 ASEE Virtual Annual Conference Content Access, Virtual On line. 10.18260/1-2–34109
This paper shares and critically examine the process for revamping core engineering courses (Foundations of Engineering I and Foundations of Engineering II) over two years. Readers should expect to get insights into practical advice for others looking to replicate the process.
Connect with our scholar:
Getting involved with CDEI
If you want to recommend someone for our Spotlight series click here.
Check out website Highlights:
Connect with the committee:

Become a Friend of the Committee
Follow us and tag us on Twitter
Become a volunteer on our Communications Committee! We are always looking for people that want to share or improve their writing and leadership skills.
Check out other Spotlight Scholars
Dr. Tony E. Butterfield: Empowering faculty and students to create an inclusive environment for the LGBTQ+ community