ASEE CDEI Scholar Spotlight Series: Jeremi London
Dr. Jeremi London: Working for the Most Vulnerable Among Us

We are honored to share the story of Dr. Jeremi London, whose tireless efforts to advance DEI have led to many awards and leadership roles. Her NSF CAREER award, entitled "Disrupting the Status Quo Regarding Who Gets to be an Engineer", is a project that blends her passion for impact, change and DEI. Her efforts have been supported by over $6M, and resulted in over 100 peer-reviewed articles, best paper awards, keynote addresses, national leadership, and meaningful student outcomes. As an active member of the American Society for Engineering Education (ASEE), she led the ASEE Year of Impact on Racial Equity (2021-2022) during her term as Chair of Commission on DEI, and championed the student pillar culminating in the 90-Day Challenge. In the interview below, please enjoy learning about Jeremi's story, current work, insights and plans regarding DEI.
At the end of this post, don't miss out on the opportunity to connect with our scholar and learn more about the ASEE CDEI's efforts.
Q: Can you tell us your story of belongingness?
There are a variety of incidents that cultivated my sense that I belong in engineering. Some of my earliest K12 experiences in magnet schools that emphasized math and science in St. Louis, MO, cultivated my desire to see math and science come alive. Engineering not only blends math and science. It is one of those fields that's so realistic: you can look around and see engineering everywhere in everyday life. The magnet schools I attended had a curriculum that was connected to nearby informal learning institutions like the Missouri Botanical Gardens and the Science Center.  These informal learning places are where I first found comfort in seeing STEM ideas come to life and I began to feel a sense of connection and belonging in engineering.
Later, Women in Engineering Day, an informal learning event sponsored by Boeing, is what ultimately led me to decide to go into engineering. A panel of about 25 women spoke about all their different roles at Boeing and I was struck by how many different fields of engineering could be situated within one company. Although I had attended magnet schools that emphasized math and science all my life, that was the first time I remember hearing the word "engineering," and the first time I remember feeling like that was the field for me. That was a place where I could belong, a place where I could make a positive impact. I was inspired by  the stories of those women on the panel talking about the ways that they were using engineering to change the world – to literally change the world! Over time both my academics and the friends I made in engineering fostered my sense that engineering is a place where I belong and a place where I can contribute.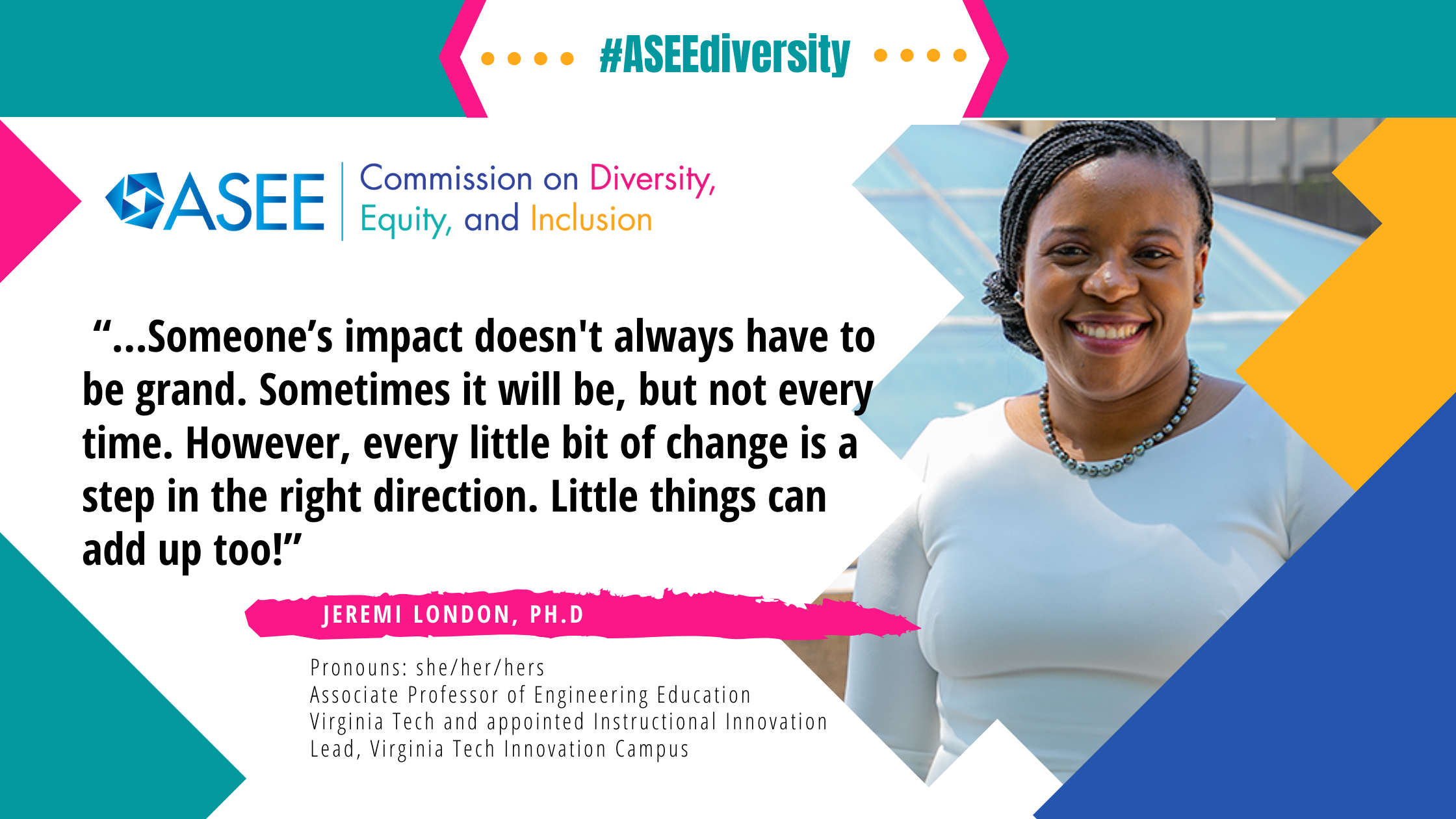 While an engineering student at Purdue University , I was embedded in a really strong social culture with the National Association of Black Engineers (NSBE) chapter, the Minority Engineering Program, and the Women in Engineering Program. Since I was most active in NSBE, I'll focus on that experience. Purdue is where NSBE was founded. Purdue has a strong academic program and my professors were supportive. That doesn't mean that there aren't equity issues at Purdue, but my overall educational experience as a Black female engineering student was positive. . I knew though, that beyond the Purdue bubble, Black and brown engineers aren't having positive experiences everywhere. Although I felt like I was in a supportive environment,  that's only one piece of the story. That external support doesn't equate to the negative self-talk which I still had to overcome. My mantra to combat negative self-talk whenever imposter syndrome or self-doubt came up was to remind myself I don't have evidence of negative claims. If I worried I was not going to pass a test, I'd ask myself, "What evidence do you have?" Have I failed a test recently? No, I haven't. Then don't entertain the possibility of it happening now." That kind of redirecting and positive self-talk helps me turn  negative claims of self-doubt on its head and push forward. That doesn't mean that I'm never afraid or that I never feel like I don't fit in, but again, I ask myself at those times "Do you have any evidence to support the idea that you're not smart, or you can't do it or that you don't belong?" No.
Q: What is your understanding of DEI and why it is important to what you do?
I think of diversity, equity, and inclusion as a multifaceted phenomenon with three facets. The first facet is structural. It includes dimensions of society, the things that make it easier or more difficult for people to participate in engineering. It's the ways in which institutions are designed to make it easy or difficult for people to have access to engineering, to become aware of engineering, or become equipped to practice engineering. The second facet is the experiences themselves, whether learning about or working in engineering; it's the experiences that people have within the context of engineering. The last facet is the interactions that happen between people. It involves peers, relationships that include power differentials (like a teacher-student relationship), and the way people interact with one another within the context of an engineering climate. Those three facets speak to my broad definition of DEI.
Broadening participation in engineering should be thought of as a national effort to combat the effects of institutional and systemic racism. The ultimate goal is to improve, enhance, and transform learning and work environments, but doing so will require consideration of the following:
Inequitable resource allocation
Institutional and systemic racism, sexism, xenophobia, and all other forms of marginalization and othering.
Chilly climates among learning and work environments
All other factors that may contribute to the lack of representation or disparate representation or differential outcomes, whether personal or professional, for underrepresented groups.
These issues manifest across the country at every educational juncture whether in elementary, secondary, or post-secondary levels. As a result strategies will require an integrated approach to make substantial change in engineering systems, policies, structures, and practices.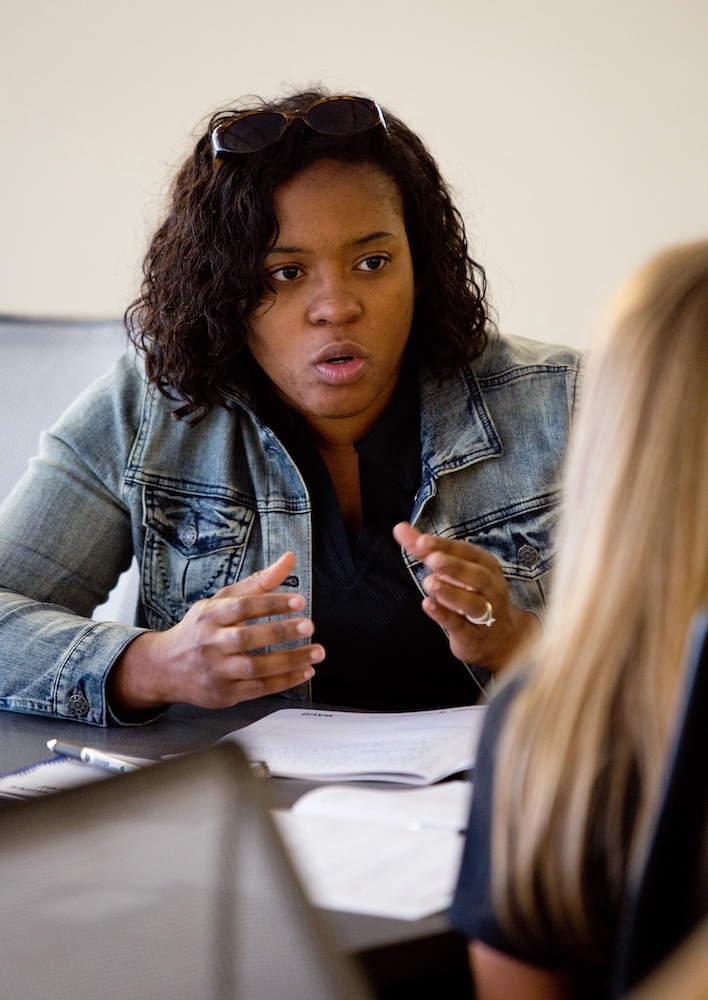 DEI permeates all three dimensions of my role as a faculty member. It  informs my work whether I'm operating as an instructor, in research, or in service to my professional community. As an instructor, it impacts how I design my courses to make sure that everyone has the opportunity to do well in my class. Sometimes that means being informed about the things that could happen in a classroom setting or team environment since teams are central to engineering. Some people may feel excluded, or people may not be able to fully participate. I think about how to design around that.
DEI affects my service in the roles that I take on and the way I spend my "free time." My recent service included serving as chair of the ASEE Commission on Diversity, Equity, and Inclusion, whichI just wrapped up and which coincided with the ASEE's Year of Impact on Racial Equity (YIRE). The Year of Impact on Racial Equity consisted of three pillars. I was the champion of the student pillar looking at how to engage undergraduate engineering students in the fight to make engineering more equitable. The thing I am most proud of is the 90-Day Equity Challenge in which teams of engineering students across the country used the engineering design process to address an equity issue within their student organizations. Ten teams signed up and eight teams ultimately finished.
I completed this experience with lessons I'll carry with me forever. It was important to realize that sometimes students are left out of the conversation, and for the YIRE to be inclusive, it had to include the student voice. Through the 90-day Equity Challenge, I recognized that students have a role to play in terms of making engineering more equitable. Another takeaway from the challenge is that a lot can be done in 90 days! When we think about major, complex diversity issues we often think we need millions of dollars and 10 years, but the students demonstrated that you don't always have to take the long view. Even in 90 days, the engineering design process allows you to isolate a problem, figure out the details you don't have or the missing information you need in order to understand the problem, and brainstorm solutions. Then try something, iterate, and realize that the way we approach typical engineering problems with inanimate objects can be relevant to how we approach diversity issues. The last key takeaway that came out of the 90-Day Challenge was the realization that impact doesn't  always have to be grand. Sometimes it will be, but not every time. Every little bit of positive chance is a step in the right direction. Little things can add up too! These students inspired me to think about what can be done with just a little bit of time and just a little bit of effort to be able to move the needle on diversity issues.
And finally in my role as a researcher, there is a strand of my research in which I'm specifically focusing on broadening participation of underrepresented groups in engineering. I have an NSF CAREER grant on Disrupting the Status Quo Regarding Who Gets to be an Engineer. I'm working to find out what's in the "secret sauce" of institutions that have consistently done a good job of recruiting, retaining, and graduating Black and brown engineers.
Q: Briefly explain the current initiatives that you are doing towards DEI.
In the context of teaching there's two ways that I think about DEI. I led the design and implementation of a class that is required for all graduate students in the Virginia Tech's College of Engineering. The class blends a focus on mentoring relationships in a multicultural environment. I think about what  messages  every engineering student should hear.
The second context is related to my  new role. Virginia Tech is developing a new campus in the Washington, D.C.area in light of the Amazon headquarters coming to the area, and I am the Instructional Innovation Lead. It's an awesome privilege but it's also a huge responsibility to work with faculty as the architect behind the redesign of two masters programs, to think about how to start something from scratch. In addition to thinking about project-based learning as a pedagogy that can level the playing field among the members of engineering teams, we're thinking about the intentional decisions we can make at the beginning of a new campus to make sure that it is as inclusive as possible.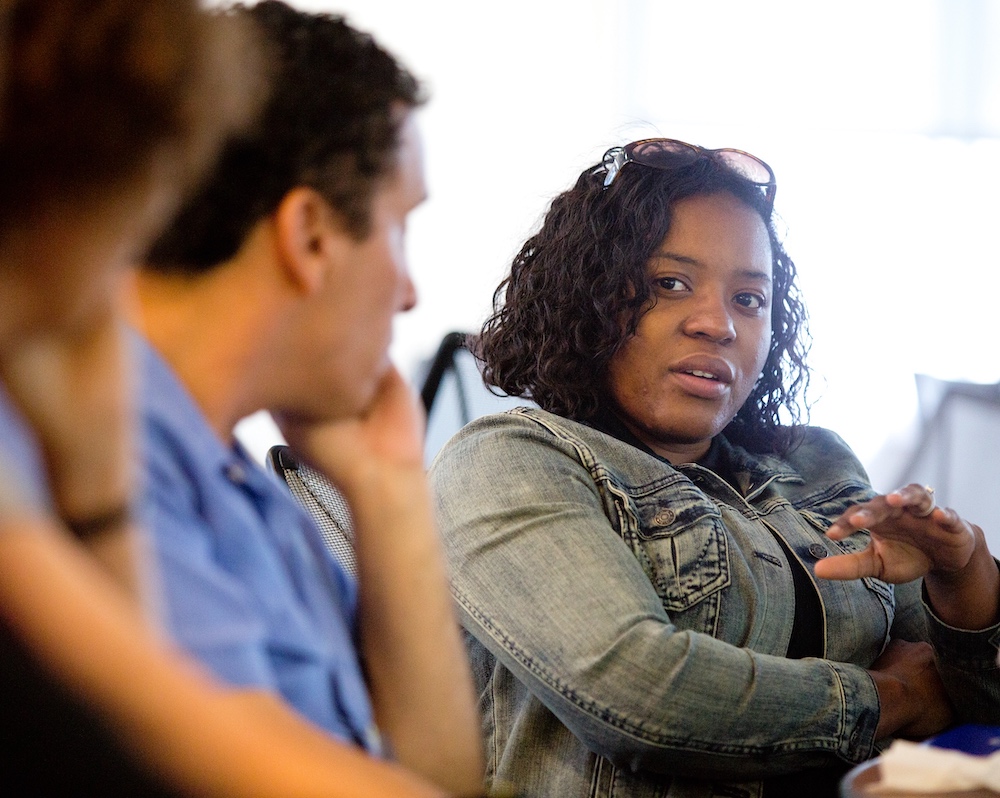 In the context of research, my main focus in my research is the CAREER grant on "Disrupting the Status Quo Regarding Who Gets to be an Engineer". This grant is based on the premise that we don't have to start from scratch when it comes to figuring out how to make engineering more diverse, equitable, or inclusive. We can learn from institutions that are already doing it very well. I looked at the ASEE list of schools that are top producers of Black and brown engineers over the last 5-10 years, and I identified a handful of exemplary institutions that are consistently named. I'm looking at their practices in undergraduate admissions, financial aid, degree requirements, faculty-student interactions, and student engagement and trying to figure out what makes them so successful.
I was also recently notified that I will be co-lead for the new NSF Center focused on addressing equity issues in graduate engineering education.
Q: What do you see as the next steps for your DEI work?
My biggest next steps relate to my Innovation Campus role. We will welcome our first cohort of students in fall 2024, so between now and 2024 I'll be working on the design of the curriculum and its surrounding program. The two degrees that will be offered initially are computer science and computer engineering. They will be professional engineering masters – so master's degree oriented toward preparing people to be technical leaders in industry rather than those on the path to conducting research. I'm also continuing work on my CAREER award, and I'm really excited about this  brand new center focused on equity. As part of my role as the Past Chair of CDEI this year, I will also serve as the Associate Editor of a Special Issue of Advances in Engineering Education focused on the outcomes and impact of the YIRE. That's plenty to keep me busy!
Q: What recommendations do you have for engineering educators to start incorporating social justice topics in their classrooms? 
I would remind my engineering colleagues that engineering is all around us. It's one of those fields that permeates our everyday lives. I encourage people to first reflect on where engineering shows up in the world. Does it show up in healthcare or does it show up in aviation or in defense? Then think about what kinds of equity issues show up in that context. Another way to think about it is to think about equity is in terms of vulnerabilities. Who are the most vulnerable people associated with whatever sector you're looking at or that is most closely connected to your work.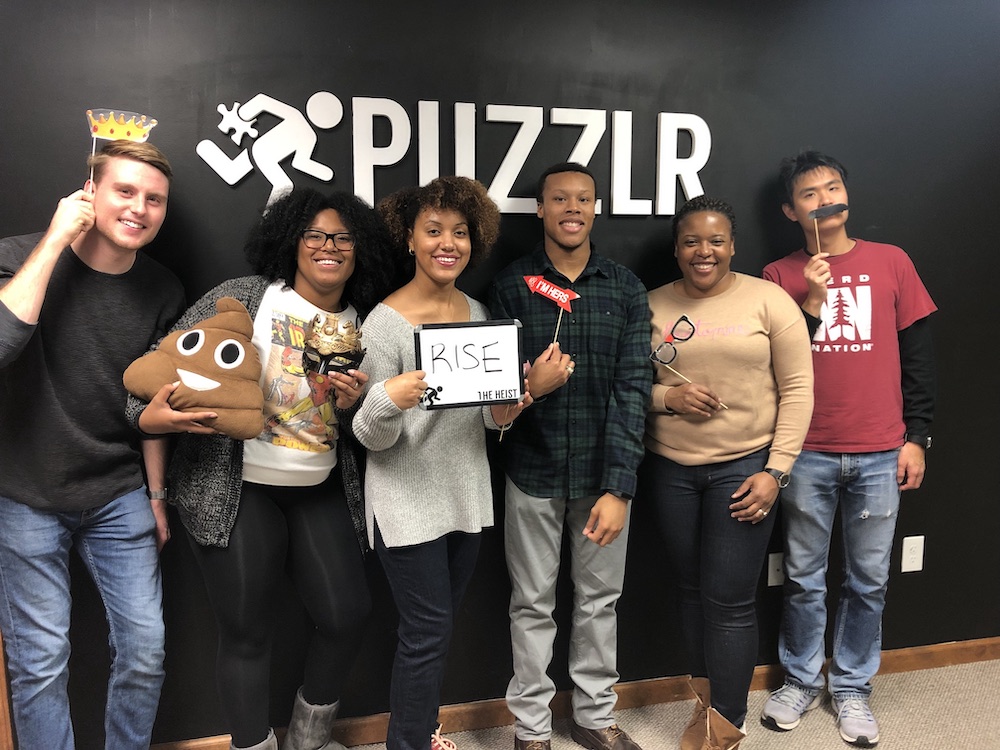 Sometimes vulnerability can show up in physical impairments or cognitive impairments, economic disparities, or social disparities. (Social disparities could result from isolation, whether experienced by people in places that don't have access to good Internet, or the isolation experienced by many elderly, or other ways isolation can impact people.) Think hard about how those vulnerabilities impact the context within your sphere of engineering, and how you can bring awareness of these vulnerabilities into the class. use it to inform the examples offered, how problems/projects are framed, or the strategies that you're teaching your students about, or how their solutions are evaluated. Think about how you can prepare them to account for the most vulnerable. It's easy to plan for the average user or "the 50 percent" point on a normal distribution curve. But I urge you to thinking about how can you plan for the one or two percent of users, the edges of the population. If you give yourself permission to do that brainstorming exercise, it can play out in terms of examples that you offer, or the way you structure a word problem, or even just acknowledging that problems are more messy than we like to admit,  or in acknowledging solutions that are more complex,. Engineering is designed for society but society includes a whole swaths of people. Take this notion into your approach to teaching and mentoring students.
Apart from equity, I also  think about social justice. When it comes to social justice, I think about imbalances of power. There are things that make people more or less powerless. Again, this gets back to those vulnerabilities. By being up front about some of the inequities that play out in the world, and preparing students to be as robust as possible and to think as widely as possible, that's a way that even engineering can begin to rebalance who does and does not have power. .
Q: What resource can you recommend to people who want to learn more about DEI in your field? 
I'm doing a book club with my grad students and two books I would recommend are Changing the Face of Engineering and Automated Inequality.
Recommended papers from our scholar:
London, J.S., Lee, W.C., Watford, B.A., Hawkins Ash, C.D., Holloman, T., Pee, C.M., Hampton, C. (2022). Themed Issue: Climbing Uphill: A Common Agenda for the Advancement of Black Americans in Engineering. Accepted to the Journal of Women and Minorities in Science and Engineering, 28(3), 101-118. [Special Issue on Reimagining STEM Higher Education Research]. http://dx.doi.org/10.1615/JWomenMinorScienEng.2022036617
London, J.S., McIntyre, B.B., Jefferson, N.A. (2022). CAREER: Disrupting the Status Quo Regarding Who Gets to be an Engineer – Insights from Year 1. Paper presented at the 2022 American Society for Engineering Education (ASEE) Annual Conference, Minneapolis, MN.
Connect with our scholar:
LinkedIn: https://www.linkedin.com/in/jeremilondon
Twitter:  @JeremiLondon
ASEE CDEI Communications Committee Volunteers
Introduction, editor and webmaster: Sarah Lester, Cal Poly San Luis Obispo
Editors: Susan Boerchers, Lafayette College; Tershia Pinder-Grover, University of Michigan, Homero Murzi (Twitter), Virginia Tech, and Elizabeth Litzler, University of Washington.
Getting involved with CDEI
If you want to recommend someone for our Spotlight series click here.
Check out website Highlights:
Connect with the committee:

Become a Friend of the Committee
Follow us and tag us on Twitter
Become a volunteer on our Communications Committee! We are always looking for people that want to share or improve their writing and leadership skills.