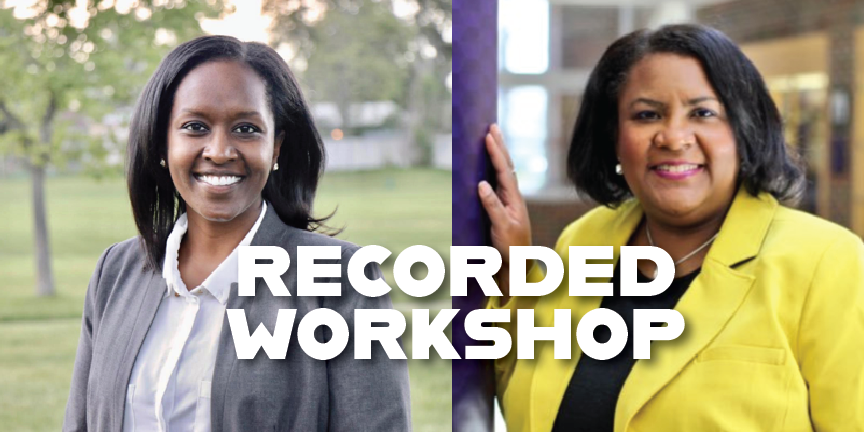 Retracing My Steps: Reflections of a Black Woman Leader in Engineering
This was a live Virtual Workshop on June 10, 2020, at 1 ET. 
Despite increased racial and gender diversity at the student and faculty level, Black women in leadership are an aberration in higher education. The facilitators have developed a leadership toolkit to support Black women administrators. Thus, three learning objectives for the proposed session are:
To motivate attendees to think about how gendered racism influences faculty and staff in engineering.
To consider the utility of narrative inquiry in engineering education research.
To help participants imagine new possibilities the way we think about governance, faculty retention, and institutional innovation.
Workshop Facilitators
Meseret Hailu Ph.D.
Assistant Professor, Arizona State University

Meseret F. Hailu is an Assistant Professor of Higher and Postsecondary Education in the Mary Lou Fulton Teachers College. Her work focuses on the retention of minoritized women in STEM STEM pathways and professions.

Email: meseret.hailu@asu.edu

Website: https://www.meserethailu.com/

Monica Cox Ph.D.
Professor and Chair in the Department of Engineering Education, The Ohio State University

Monica F. Cox, Ph.D., holds degrees in Mathematics (B.S., Spelman College), Industrial Engineering (M.S., University of Alabama), and Leadership and Policy Studies (Ph.D., Peabody College at Vanderbilt University, 2005). She began her academic career in the School of Engineering Education at Purdue University, where she earned a Presidential Career Award for Scientists and Engineers (PECASE), becoming the first African American woman to earn tenure in Purdue's College of Engineering. From January 2016 to May 2020, she served as Professor and Inaugural Chair in the Department of Engineering Education at The Ohio State University. She is the Founder and CEO of STEMinent LLC, which houses educational assessment, professional development, and media offerings. Her research focuses on the use of mixed methodologies to explore questions across the education continuum, particularly why engineering women faculty persist. Dr. Cox has led and collaborated on multidisciplinary projects totaling approximately $16 million and has authored over 130 publications.

Email: cox.1192@osu.edu

Project website: https://whywepersist.com/ (NSF Award Number: 1712618)

Personal website: https://preparedtobeapioneer.com/
This complimentary offering is a part of our 2020 Summer Series.