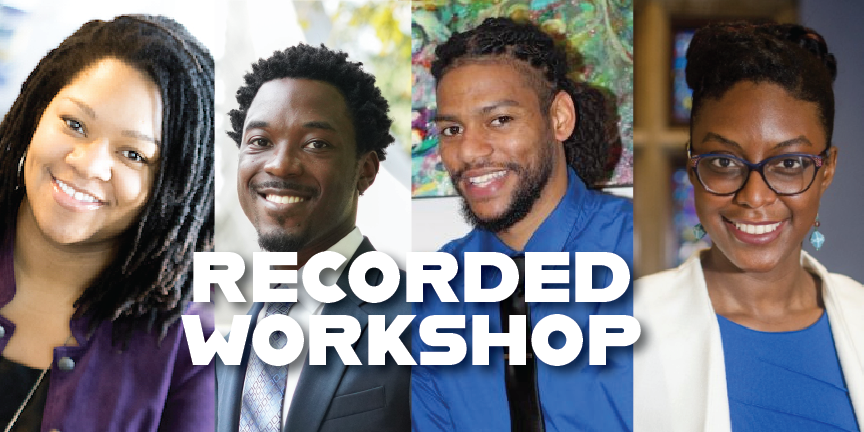 Do You See Me?: Hypervisible Invisibility #EngineeringWhileBlack
Black men and women are capable, dignified, and tenacious; nevertheless, under-representation of black individuals within the field remains a stubborn issue at all levels. While many explanations have been offered anecdotally and within literature, this panel discussion intends to offer engineering stakeholders an insider view on what it's like to be black in engineering. Beyond conversation, we'd like to suggest ways of affirming black students' academic and racial/cultural identity.
This Virtual Workshop was recorded on July 29, 2020. 
Facilitators
James Holly, Jr. is an Assistant Professor in Urban STEM Education at Wayne State University, where he aims to assist the formation of critically conscious STEM educators that effectively utilize and support the assets of urban non-white students. His research explores the complexities of teaching the STEM disciplines in an urban context in pursuit of equity and justice, and the process of preparing educators to teach the STEM disciplines in an integrated manner. James has earned a Bachelor of Science degree from Tuskegee University, a Master of Science degree from Michigan State University, both in Mechanical Engineering, and Doctor of Philosophy degree from Purdue University's School of Engineering Education.


LinkedIn | Twitter
As a self-taught artist and performance poet, Chanel Beebe priorities art and design as a means to social change and critical education. Born and raised in Detroit, Michigan, Chanel is a Ford Foundation Pre-Doctoral Fellow and Gates Millennium Scholar with an Undergraduate Degree in Industrial Engineering from the University of Michigan-Ann Arbor. Chanel Beebe is currently a Ph.D. Candidate in Engineering Education and a Master's Student in Industrial Engineering at Purdue University. Additionally, Chanel is the Founder and CEO of Beebe Arts LLC, a design firm focused on social and educational equity. Chanel has a passion for informal learning environments that are culturally and topically relevant to marginalized groups and is interested in helping to expand public conceptions of who is seen as capable of engaging in engineering/design thinking. More about Chanel Beebe and her work can be found at ChanelBeebe.com.
LinkedIn | Facebook
Donovan Colquitt, owner and founder of The Scholar's Key, is a leading advocate for increasing college access and success for underrepresented minoritized youth. He is the author of "The Scholar's Key: How You Can Unlock Your Dreams as a Teen," which he wrote during his senior year of high school to motivate teens to apply for scholarships after winning $1.25 million in scholarships. Donovan mentors students on how to have their college education completely paid for through earning scholarships. A graduate of the University of Michigan-Ann Arbor, where he earned a bachelor's degree in mechanical engineering with a minor in sustainable engineering, Donovan came to Purdue University, where he was awarded three fellowships, including the GEM Fellowship and the Graduate Research Fellowship from the National Science Foundation, to undertake his research for his Ph.D. in Engineering Education. He is also pursuing a master's in STEM Education Leadership.
LinkedIn
DeLean Tolbert is an Assistant Professor in the Department of Industrial and Manufacturing Systems Engineering at the University of Michigan-Dearborn. Her work intersects both research on the access and experiences of underrepresented communities' along engineering pathways and design. She seeks to to become a leading contributor to scholarship on the engagement of youth and families of color in engineering, design, and innovation.