Let's Not Underestimate the Power of Student Voice
by Dr. Tracie Addy

Tracie Addy, Associate Dean of Teaching & Learning and Director, Center for the Integration of Teaching, Learning, and Scholarship, Lafayette College, shares some her thoughts on how to foster a more inclusive classroom
Among the greatest opportunities for higher education is ensuring that classrooms are inclusive of all learners, and recognizing the critical role of instructors in this process [1]. I can attest to the important role that some of my college professors played in my sense of belonging many years ago. Several intentionally helped me realize my potential and reinforced that I was supposed to be in college. I remain forever grateful to them – my independent study mentor, academic advisor, classroom instructors, department chair and deans. What set them apart from other professors was that although they may not have shared any of my social identities, they seemed keenly aware that not all students, including me, a female, BIPOC, had the equivalent college experience. They recognized that some learners like me could experience stereotype threat at private, predominantly white institutions, and they affirmed my belonging which helped me thrive.  As the director of a center for teaching and learning I continue to grapple with how instructor awareness of the importance of inclusive teaching approaches can happen and provoke one to make changes in practices. I continue to witness the powerful impact of students' voices.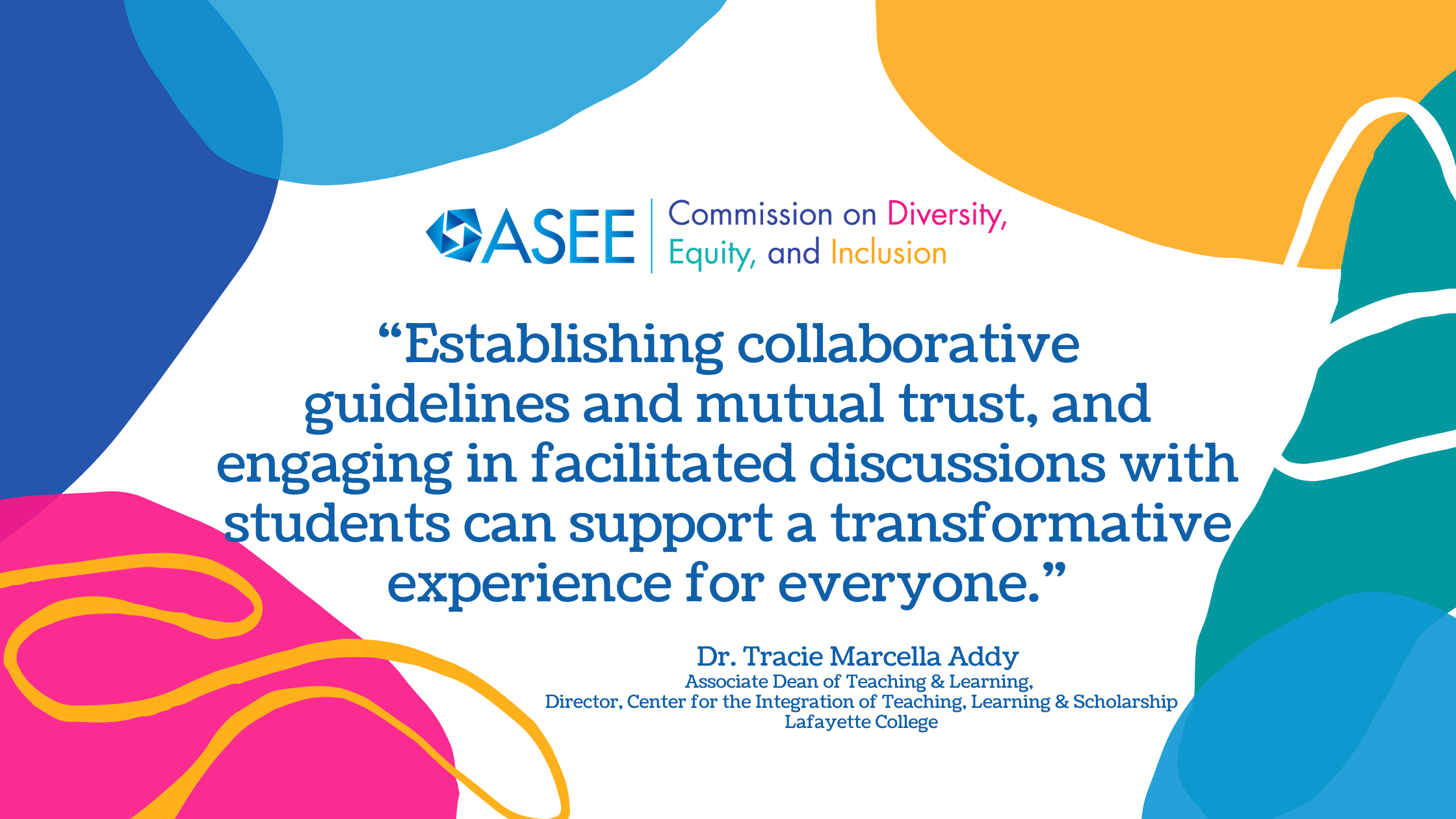 Choose a model that works for you
Various models for incorporating student voice within inclusive teaching efforts exist, and my center employs different formats in our initiatives. In the midst of a global pandemic and anti-Black racism, such practices are essential but they must also play a critical role in lieu of these circumstances.
Student panelists can share their perspectives about what they would like their professors to know about fostering an inclusive classroom environment at college-wide forums [2].
Student partners can observe classroom teaching and provide feedback to individual instructors on their inclusive approaches [3].
Instructors can employ classroom tools that provide opportunities for students to share aspects of their social identities in addition to other attributes, and responsively use this information to take small steps to design an inclusive learning environment [4].
Students can also produce resources or publications for instructors to advance teaching efforts [5].
Instructors and educational developers may also devise other creative ways for incorporating student voice. Barriers, however, can exist. For example, if the voices of our students have the potential to transform teaching, then why are learners not given opportunities to be heard more often? One reason might be fear. There may be concern about giving students a forum to speak publicly because it may reveal transgressions or failures of inclusion, set unreasonable expectations and demands, or involve unproductive dialogue. Establishing collaborative guidelines and mutual trust, and engaging in facilitated discussions with students can support a transformative experience for everyone. Among other reasons may be underestimating or not being aware of the power of student voice. Sentiment that students are not able to articulate their needs for inclusion, or the assumption that the perspectives of the instructor are equivalent to those of students might be apparent. However, viewing teaching from the perspective of learners is critical for information-gathering and excellence in teaching.
Student voice can be an impactful way to advocate for the widespread adoption of inclusive teaching approaches. After all, who better knows whether the course environment is equitable and feels welcoming than our learners?
References
[1] Addy, T.M., Dube, D., SoRelle, M., Mitchell, K.A. What Inclusive Instructors Do: Principles and Practices for Excellence in College Teaching. Stylus Publishing. Forthcoming in 2021.
[2] Cook-Sather, A., Addy, T.M., DeVault, A., Litvitskiy, N. (in press). Where Are the Students in Efforts for Inclusive Excellence?: Two Approaches to Positioning Students as Critical Partners for Inclusive Pedagogical Practices. To Improve the Academy.
[3] Cook-Sather, A., Bahti, M., Ntem, A. (2020). Pedagogical Partnerships: A How-To Guide for Faculty, Students, and Academic Developers in Higher Education. Available from https://www.centerforengagedlearning.org/books/pedagogical-partnerships/
[4] Addy, T.M., Dube, D., Mitchell, K.A. (August 5, 2020). Fostering an Inclusive Classroom. Inside Higher Ed (Opinion). Available from https://www.insidehighered.com/advice/2020/08/05/small-steps-instructors-can-take-build-more-inclusive-classrooms-opinion
[5] Addy, T.M., Husseini, A., DeVault, A. (2019). What Two Students Want You to Know About Inclusive Teaching. Faculty Focus. Available from https://www.facultyfocus.com/articles/teaching-and-learning/inclusive-teaching-fosters-supportive-classroom/
About the Author
Dr. Tracie Marcella Addy, PhD, MPhil oversees the vision, mission and operations of the Center for the Integration of Teaching, Learning and Scholarship at Lafayette College and serves in other leadership capacities in on-campus initiatives related to teaching and learning. She is an invited keynote speaker and facilitator of professional development opportunities for instructors nationally, as well as a scholar of teaching and learning.  Before engaging in full-time faculty development work, Dr. Addy taught at the undergraduate level, and has experience teaching at the graduate level. She enjoys talking about teaching and learning. She is the author of the forthcoming book What Inclusive Instructors Do: Principles and Practices for Excellence in College Teaching  described further in the book trailer.
Connect with our guest blogger:
Do you want to become a guest blogger?
CDEI Guest Blog highlight future events, describe best practices, or share calls to action by CDEI members.  We invite you to propose posts that share brief research highlights, reports of impactful initiatives, critical thought pieces, and resources you find useful. We especially encourage emerging scholars to share their work. If you are interested in sharing a blog or resource post, you may submit your proposal here. All posts are screened and edited.