CDEI Strategic Planning Process
The CDEI has finalized our third strategic plan, designed to carry us through the next five years. Our goal was to be as inclusive, collaborative, and transparent about the process as possible, and you can see a description of the five-month journey and our contributors below.
The new plan anchors around four priorities, and each has five objectives.
To accomplish the new plan:
Every objective is assigned to a committee or team.
We are forming five nascent teams to complement the seven formal committees outlined in our bylaws.
Each committee/team will articulate its annual strategy (measurable goals and priorities that support each objective) by Sep 1 each year.
We will use a tracker file to help us monitor progress towards our goals throughout the year, a summary of which we will reflect in our annual reports to the board.
We are excited to employ a strategy that extends opportunities for participation, flattens hierarchy to promote more leadership options, and expands our capacity to reach our vision and mission in support of ASEE.
We have submitted the new strategic plan to the ASEE Board for approval.
Please let us know if you have any questions.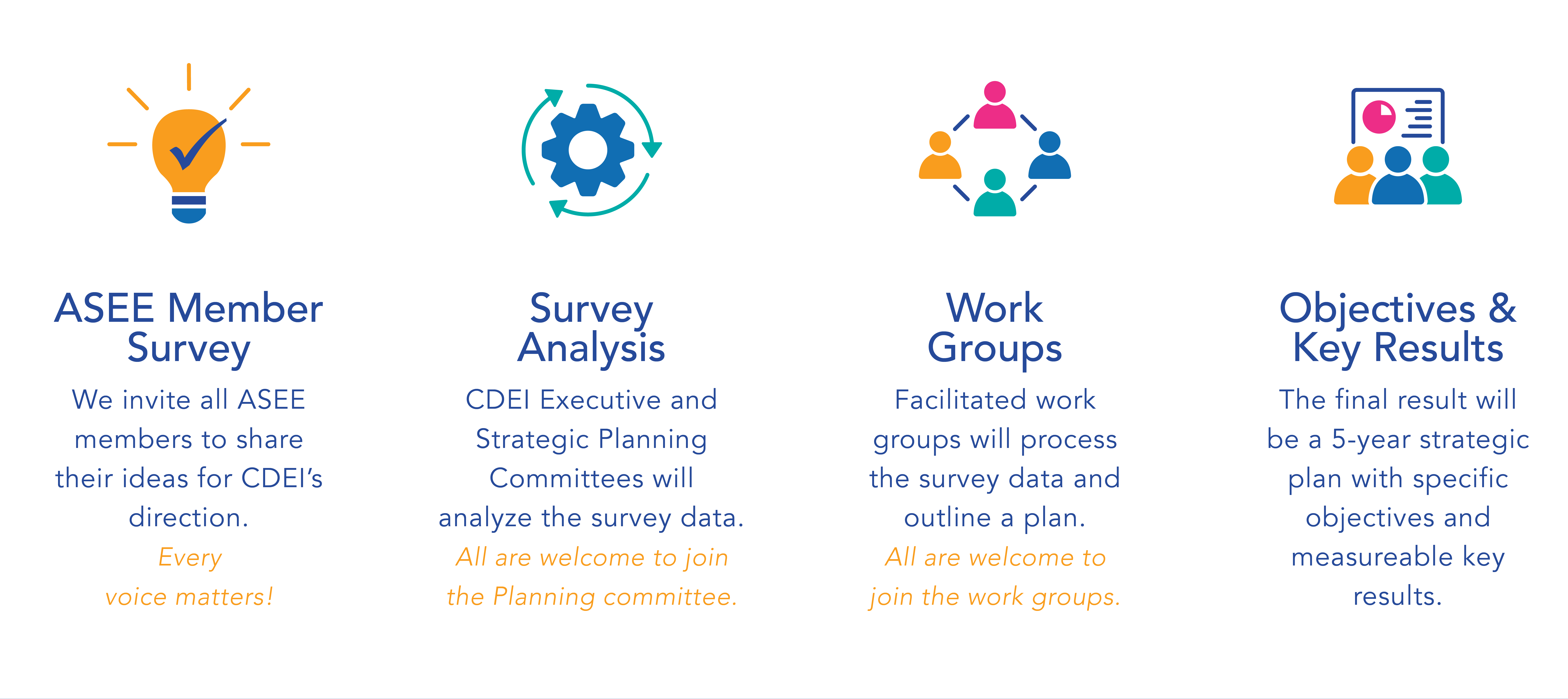 SURVEY: February
The purpose of the survey is to gather input from the broader ASEE membership on the desired direction of the CDEI. Previously, the CDEI strategic planning committee was charged with developing a first draft of the next CDEI strategic plan. The committee discussed CDEI progress to date and areas of improvement and developed an initial draft building on the previously approved CDEI strategic framework. Seeking ASEE member input to inform the final strategic plan is essential in this process. We need your input to develop a plan that meets the needs of our membership and rallies our efforts as CDEI friends, delegates, and leaders.
>> 87 people completed the survey. See the raw data from the survey
>> Demographics of Survey Respondents
>> For those who wish to talk about their ideas as a generative process for curating fresh perspectives and input, we invite you to a listening and dialogue session. Open Dialogue Session, Thursday, February 24, 2022, 1 – 2 CST. (Zoom Registration Link | Add to your Calendar)
>> 15 people attended. See the shared notes from the open dialogue session.
ANALYSIS: March
Members of the CDEI executive committee, with the assistance of the CDEI strategic planning committee, will analyze the results and prepare them for the workgroups to review. The input from the ASEE membership will be the backbone of a collective plan.
WORK GROUPS: March
The purpose of the workgroups is to process the survey data and formulate a plan. Most of the workgroup processing will be done asynchronously using collaborative tools. This process is still taking shape as it depends on how many people volunteer. Though not required, we recommend that workgroup members read "Measure What Matters" by John Doerr.
>> 18 people volunteered
>> We held five ~1-hour meetings between March 14 and April 11
>> Our notes indicate that the following people participated in at least one of the meetings (listed in no particular order): Meagan Pollock,  Liz Litzler, Tasha Zephirin, Chris Gordon, Seyed, Carole Womeldorf, Bala Maheswaran, Kimberly Cook-Chennault, Carmen Lilley, Baishakhi Bose, Nandika D'Souza, Audra Morrison, Sharon Tettegah
>> See our running notes.
>> See the working draft.
FINAL PLAN: May
The final five-year strategic plan consists of priorities and objectives. Through our collective process, we've identified:
>> 4 primary priorities/key values, and
>> 20 objectives to guide us through the next 5 years.
Each committee/team will articulate its annual strategy (measurable goals and priorities that support each objective) by Sep 1 each year. We will use the 
tracker
 file to help us monitor progress towards our goals.
---
On 2022-05-28, we sent the plan to the executive committee for final review, through June 8. A reminder was sent on June 3. Only two people added
feedback
. Seven people met on June 1 to discuss, and all were supportive of the plan.
---
As of 2022-06-10, the four priorities and twenty objectives are approved by the CDEI Executive Team.
---
As of 2022-06-16, we are posting the strategic plan to our website and sending it to the ASEE Board for formal approval.
In addition, we contributed to ASEE HQ's strategic planning process. You can view our contributions here.