Prioritizing mental health and wellness in engineering
By Dr. Sarah Wilson

Prioritizing mental health and wellness in engineering
As faculty, most of us have quickly learned that teaching and grading is only a small portion of what we are asked to do on a daily basis. Through our classes, we develop relationships, provide mentorship and become a support system for students as they navigate their college experience. While this has always been my favorite part of the job, it has also meant that I have had to navigate difficult conversations with students. In starting my career, I was surprised and concerned by the number of students opening up to me about their mental health. I truly felt unprepared to navigate these conversations and support my students.
The mental health of college students is a nationwide concern, with some calling the current status of mental health on college campuses a "mental health crisis." While the increase in prevalence of mental health concerns amongst students is a concern across all majors, national data show that engineering students experiencing mental health distress are less likely to seek professional help compared to their peers (46% engineers vs. 62% non-engineers) [1]. This treatment gap persists across different engineering student sub-populations such as cisgender men (42% engineers vs. 52% non-engineers), Black students (40% engineers vs. 50% non-engineers), and first-generation college students (42% engineers vs. 56% non-engineers) [2,3]. Concerningly, this lack of treatment can result in the progression of symptoms to more severe or chronic conditions [4].
One potential cause of this treatment gap is engineering stress culture, which Jensen and Cross suggest could result in the normalization and exacerbation of a high stress training environment [5]. While periodic stress throughout a college experience is normal and can actually result in improved academic performance, severe and prolonged stress can lead to mental distress, which can result in a decline in mental health. Currently, many engineering students prioritize their academic success over their mental wellness, and this has the potential to follow them into their engineering career. As faculty, we have the opportunity to influence the culture of engineering within our own courses and across our program. In creating an engineering culture that prioritizes mental wellness and normalizes self-care, we can help students recognize the difference between periodic stress and distress. Additionally, we can give students in our courses the permission to prioritize their mental health and wellness over their academic performance.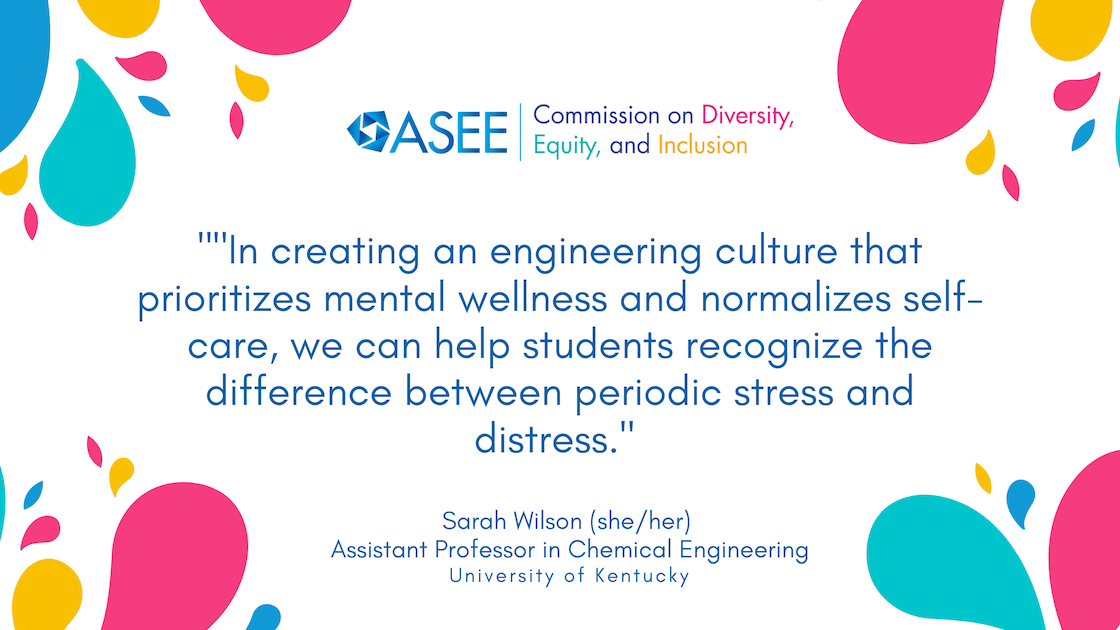 What can we do to create a positive mental health culture within our classroom? Below I will suggest several strategies that I have used to bring mental health and wellness into the classroom. This is just a fraction of what can be done to help create a culture of wellness in the classroom based on my own personal journey. I challenge you to think about what this journey could look like for you in your own courses.
1. Talk about mental health in the classroom.
While many of us have statements about mental health resources on our syllabus, we don't often take the time to talk about mental health in the classroom with our students. As a result, students often don't think that there is a place for mental health in engineering. By talking about mental health and wellness regularly, you can start to normalize conversations around mental health and help-seeking. Take the time to talk to students about resources that are available on campus, show them an interesting article on impostor phenomenon (and if you feel comfortable, talk about your own impostor phenomenon), and have a conversation with them about why engineers might be less likely to seek professional help for their mental health. By regularly talking to students about mental health in the classroom, you give them permission to talk about and prioritize their own mental health.
2. Talk about how you prioritize your own mental wellness.
In academia, there can be a lack of work-life balance that can make it difficult to maintain a healthy lifestyle. Through Covid, this became an even bigger challenge. When I first started talking to students about prioritizing their mental health, much of what I was saying felt contradictory to the life that I was living. Because of this, I decided that I needed to do a better job of prioritizing my own mental wellness and do my best to model this to my students. I began to talk to students about my love for aerial arts and how it provides me with an amazing community outside of work, while also allowing me to exercise and build strength. I stopped sending emails and announcements after hours or on the weekends. I gave students a day off from recitation after an exam and talked about how we all needed time to recharge, myself included. In talking to students about how I prioritize my own mental health, I saw a change in the expectations that they had for me. While I still occasionally have a student ask about when grades will be completed, they seem to have a better understanding of my own limitations and boundaries.
3. Provide opportunities for flexibility.
All engineering students are constantly navigating academic stress. Additionally, many students are dealing with other stressors (childcare, eldercare, financial challenges, etc.) that can differentially impact their ability to be successful in your course. By providing students with opportunities for flexibility, you can help to alleviate some of the extreme pressure that students face throughout the semester. In my lab course, I have started to implement a free, no-questions-asked 48-hour extension that students can use once per semester. While this was a small change for me to make, several students mentioned to me that they used their extension at a time when they felt extremely stressed and it allowed them to finish the assignment to a higher standard. While this is not a perfect solution, it provided all students with access to flexibility with no required explanation.
4. Encourage students to advocate for their own mental health and the mental health of their peers.
Students themselves are in the best position to recognize their own needs and the needs of their classmates. While faculty have some ability to recognize symptoms of mental health distress in their students, they can also be easily overlooked. Because students in your classroom are often friends or working in teams together, they might notice concerning behavior in their classmates or friends more easily. At the beginning of the semester, talk to students about being advocates for the wellbeing of themselves and their classmates. If you feel comfortable, share some of the signs and symptoms of mental health distress that they should be looking out for in their classmates. While changes in class behavior (attendance, performance, engagement) can be easier for faculty to recognize, other symptoms such as changes in appearance, dropping clubs/organizations, insomnia or referencing not doing well are more easily spotted by peers. Introducing students to these signs and providing them with ways to report a concern either to you or to the university could help to get a student the help that they need.
In talking about mental health in the classroom, it is possible that you will open up opportunities for students to talk to you about their mental health, so you should be prepared for this. Most campuses have opportunities for faculty to participate in mental health training.  Mental health first aid training provides participants with the skills to 1) recognize the signs and symptoms of a mental health or substance abuse problem and 2) respond to those who are in distress. QPR (question, persuade, refer) training is specifically targeted at suicide prevention. In addition to national training programs such as these, it is also important to know about the resources available on your campus.
Be prepared
While it is important to know about counseling centers, it can also be helpful to know about different coaching programs (e.g., academic, life, integrated success, wellness), basic needs resources, disability resources or tutoring programs on campus. Additionally, I have a document saved on my computer that has answers to the following questions:
Where do I direct a student that is in distress during a school day?
Where do I direct a student that is in distress at night or on the weekend?
Who can I call if I am concerned about a student's safety?
Where can I walk a student if I am concerned about their safety?
Where can I report a concern that you might have for a student?
Every campus has access to different resources, so knowing what to do on your campus is important. By having them written down, you can help to reduce the stress associated with responding to a student in distress. While it is always important to be prepared for potential hard conversations with students, I can say that for me, I have had far more positive conversations with students about their mental health since starting to integrate these topics into the classroom. Having students share their personal journeys with me has been extremely rewarding and highlights the importance of creating these cultural shifts in the engineering community.
References
[1] Lipson, Sarah Ketchen, Sasha Zhou, Blake Wagner III, Katie Beck, and Daniel Eisenberg. "Major differences: Variations in undergraduate and graduate student mental health and treatment utilization across academic disciplines." Journal of College Student Psychotherapy 30, no. 1 (2016): 23-41.
[2] D. Eisenberg et al., "The Healthy Minds Study: 2018-2019 Data Report," 2019.
[3] S. A. Wilson, Hammer, J.H., Usher, E.L., "Engineering Student Mental Health: Analysis of national data from the Healthy Minds Study," presented at the American Institute of Chemical Engineers National Conference, Virtual, 2020.
[4] Mitchell, Caroline, Brian McMillan, and Teresa Hagan. "Mental health help-seeking behaviours in young adults." (2017): 8-9.
[5] K. Jensen, K. J. Cross, "Engineering stress culture: Relationships among mental health, engineering identity, and sense of inclusion," Journal of Engineering Education, vol. 110, no. 2, pp. 371-392, May 2021.
About the Author
Sarah Wilson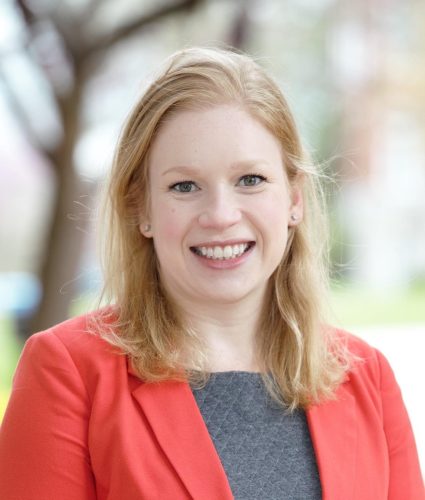 Sarah Wilson is an Assistant Professor in Chemical Engineering at the University of Kentucky (UK). She received her undergraduate degree in chemical engineering at Rowan University. After graduation, she completed her PhD in chemical engineering at the University of Massachusetts. She started at UK in 2015 as a lecturer in Chemical Engineering with a goal to provide her students with the same undergraduate focused education that she obtained through college at Rowan University. Over the first five years of her career, her passion for research in engineering education grew organically from her desire to improve herself as an educator and to meet the needs of her students. In August of 2020, she was promoted to an Assistant Professor with research in the area of engineering education. With a teaching interest in supporting student communication skill development and student mental health and wellness, her research is focused primarily in these areas. In 2020, she received an NSF Research Initiation in Engineering Formation grant to student mental health-related help-seeking beliefs in engineering undergraduate students. This research has allowed her to expand her skillset in social science research skills and develop expertise in both qualitative and quantitative research methods. Moving forward, she aims to apply these skills towards understanding internal barriers to success within engineering.
Connect with our guest blogger
Do you want to become a guest blogger?
CDEI Guest Blog highlight future events, describe best practices, or share calls to action by CDEI members.  We invite you to propose posts that share brief research highlights, reports of impactful initiatives, critical thought pieces, and resources you find useful. We especially encourage emerging scholars to share their work. If you are interested in sharing a blog or resource post, you may submit your proposal here. All posts are screened and edited.